Care Technology LLC is certified as a Women owned, MBE / DBE Company.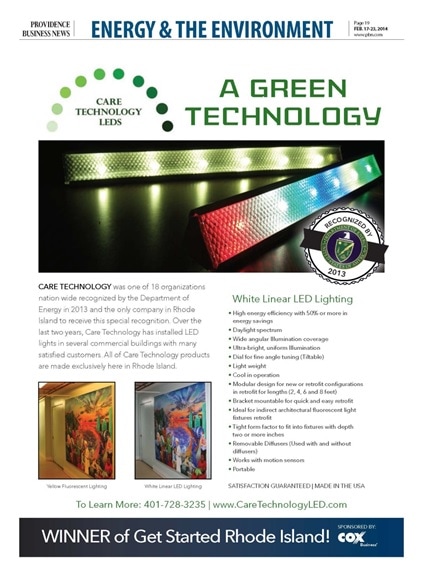 About LED Lightings

Today's lighting costs represent 35~50% of the total monthly electricity bills for many businesses and families. The high cost of energy has spurred the development of LED lighting to replace conventional lights, such as incandescent lamps, halogen lights, fluorescent lights, compact fluorescent light bulbs and metal halide lamps.

Our newly patented, Linear White LED Lighting is an environmentally friendly product which provides efficient solutions for people's lighting and energy needs. Buildings retrofitted with our linear LED lighting products have shown 50% or greater in energy savings compared to fluorescent lamps, and 90% savings compared to incandescent lamps. These are significant cost savings which improve cash flow for businesses and reduce families' monthly expenses. Building owners and tenants report tremendous customer satisfaction with the quality of our lights and the reduction in their monthly electricity bills.

LED products have other advantages in addition to lowering costs and reducing the carbon foot print. LED products also have extended life spans, and are replaced far less often than fluorescent or incandescent lamps. Indirect cost savings include lower heating/ air conditioning costs because LED lights dissipate much less heat than conventional lights.

Using wide spectral emission capabilities of white, high power LED lights, our linear LED lights help to improve vision by reducing eye strain and providing greater lighting clarity. When using our lights, consumers report that they feel less tired and more productive. The clarity and brightness of these lights provide a healthier, safer environment for employees and tenants.

It is a smart decision to convert all lights directly to our Linear LED lights to start saving on energy costs, while enjoying better light.

One of the many advantages of LED lights is their longer life span, compared to both Compact Fluorescent and Incandescent Lamps. As a result, both maintenance costs and replacement costs are lower. Our lights do not use glass or mercury, so our customers do not have to worry about the potential of broken glass or toxic mercury leakage. Our customers are excited to recommend the Linear LED lights to other users. Their visitors often comment on how impressive the lighting is in terms of brightness and uniformity. We value our customers, and provide them with excellent customer service.



Mission
Our guiding mission is to create innovative, environmentally friendly products and solutions, which profoundly improve the quality of people's lives. Our talented scientists and engineers use technological innovation to improve the health, lifestyle, and the environment of our customers. White Linear LED Lights, the lighting choice of the 21st century, are an enhancement to today's commercial, public buildings and homes.

One of the most pressing and destabilizing demands in America is energy. With our continued and growing reliance on foreign oil, we are experiencing escalating energy prices that are detrimental to the U.S. economy and American family. With a pending energy crisis on the horizon, there is a need for both alternative energy sources and energy-efficient innovation that use existing energy sources. Our energy efficient lighting technologies can reduce the per-unit cost of electricity. Our linear LED lighting reduces energy utilization by at least fifty percent.

This cost savings improves cash flow in businesses and lowers monthly costs to families. Our goal is to improve our community through economic and environmental sustainability, while improving the quality of life of our clients.


Care Technology LLC was special recognized By DOE-Lighting Facts In November, 2013.
http://www.lightingfacts.com/Library/Content/SpecialRecognition
2013 LED Lighting Facts Special Recognition
Every year during the annual Market Introduction Workshop, the U.S. Department of Energy (DOE) acknowledges a select group of LED Lighting Facts partners with a Special Recognition for their efforts to assure and improve the quality of LED lighting products. In 2013, eighteen organizations were recognized for their support for both the LED Lighting Facts program and the LED lighting industry as a whole.
The 2013 Special Recognition Recipients
Care Technology LLC
Care Technology specializes in architectural lighting and retrofits for existing fluorescent fixtures. The LED Lighting Facts data provides Care Technology's customers with a greater understanding of which lights will satisfy their high-demand environments and helps them see how the energy consumption data corresponds to the energy savings compared to fluorescent, metal halide, and other incumbent technologies. These customers also have noted a reduction in their air conditioning bills! The LED Lighting Facts program helps Care Technology prove the benefits of LED products to potential customers.